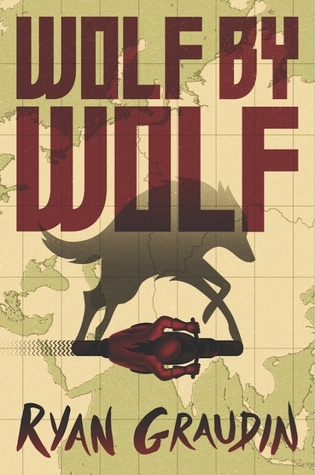 Title: 
Wolf by Wolf (Wolf by Wolf, #1)
Author: 
Ryan Graudin
Publication date: 
October 20, 2015
Publisher:
 Little, Brown Books for Young Readers (Hachette)
Genre: 
YA, Historical
Rating: 
Source: 
Publisher (NetGalley)
Amazon 
| 
Goodreads 
| 
TBD
Code Name Verity meets Inglourious Basterds in this fast-paced novel from the author of The Walled City.

The year is 1956, and the Axis powers of the Third Reich and Imperial Japan rule the world. To commemorate their Great Victory over Britain and Russia, Hitler and Emperor Hirohito host the Axis Tour: an annual motorcycle race across their conjoined continents. The victor is awarded an audience with the highly reclusive Adolf Hitler at the Victor's ball.

Yael, who escaped from a death camp, has one goal: Win the race and kill Hitler. A survivor of painful human experimentation, Yael has the power to skinshift and must complete her mission by impersonating last year's only female victor, Adele Wolfe. This deception becomes more difficult when Felix, Adele twin's brother, and Luka, her former love interest, enter the race and watch Yael's every move. But as Yael begins to get closer to the other competitors, can she bring herself to be as ruthless as she needs to be to avoid discovery and complete her mission?
Like it often happens when your love for something is great, I am hesitant to write this review, if for nothing else than that I am unsure if I can sufficiently convey what a masterpiece
Wolf by Wolf
is. Nevertheless, since I do happen to be a book blogger, I shall try.
What would the world be like if Hitler had won the Second World War?
Its an innate human belief that good always triumphs over evil. But
what if?
Wolf by Wolf
is set in a world where the Axis Powers and Japan are the superpowers. Yael is a skin shifter. She's basically a human chameleon. She can change her appearance at will, thanks to several years of undergoing horrifying experiments at a Nazi concentration camp. Soon after she develops this power, Yael escapes the camp and joins the resistance. After some years working for the cause, she decides to join the annual youth motorcycling race that winds across the breadth of the continents, ending in Japan. The victor's ball is one of the few times that paranoid Hitler actually comes out in public, and Yael is charged with assassinating Hitler.