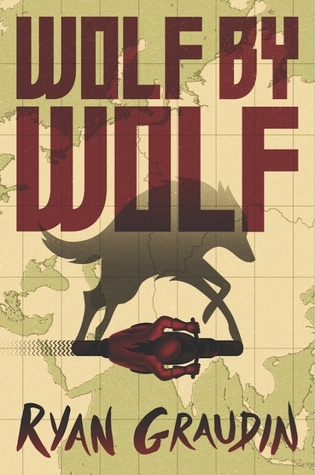 Title:
Wolf by Wolf (Wolf by Wolf, #1)
Author:
Ryan Graudin
Publication date:
October 20, 2015
Publisher:
Little, Brown Books for Young Readers (Hachette)
Genre:
YA, Historical
Rating:
Source:
Publisher (NetGalley)
Amazon
|
Goodreads
|
TBD
Code Name Verity meets Inglourious Basterds in this fast-paced novel from the author of The Walled City.

The year is 1956, and the Axis powers of the Third Reich and Imperial Japan rule the world. To commemorate their Great Victory over Britain and Russia, Hitler and Emperor Hirohito host the Axis Tour: an annual motorcycle race across their conjoined continents. The victor is awarded an audience with the highly reclusive Adolf Hitler at the Victor's ball.

Yael, who escaped from a death camp, has one goal: Win the race and kill Hitler. A survivor of painful human experimentation, Yael has the power to skinshift and must complete her mission by impersonating last year's only female victor, Adele Wolfe. This deception becomes more difficult when Felix, Adele twin's brother, and Luka, her former love interest, enter the race and watch Yael's every move. But as Yael begins to get closer to the other competitors, can she bring herself to be as ruthless as she needs to be to avoid discovery and complete her mission?
Like it often happens when your love for something is great, I am hesitant to write this review, if for nothing else than that I am unsure if I can sufficiently convey what a masterpiece
Wolf by Wolf
is. Nevertheless, since I do happen to be a book blogger, I shall try.
What would the world be like if Hitler had won the Second World War?
Its an innate human belief that good always triumphs over evil. But
what if?
Wolf by Wolf
is set in a world where the Axis Powers and Japan are the superpowers. Yael is a skin shifter. She's basically a human chameleon. She can change her appearance at will, thanks to several years of undergoing horrifying experiments at a Nazi concentration camp. Soon after she develops this power, Yael escapes the camp and joins the resistance. After some years working for the cause, she decides to join the annual youth motorcycling race that winds across the breadth of the continents, ending in Japan. The victor's ball is one of the few times that paranoid Hitler actually comes out in public, and Yael is charged with assassinating Hitler.
5 TIMES WOLF BY WOLF BLEW ME OVER WITH ITS AWESOMENESS
1. Yael, my girl
Yael is one of the most heart breakingly vulnerable, yet steely protagonists I've ever read. Right from the start, when she joins the camp, her resilience is evident.
She wanted to be strong, brave, so she offered the one word a strong, brave girl might say: "Fine."
But like everyone who presents a tough face to the world, Yael's character has its own cracks and fissures. She has changed her face so much that she no longer remembers what she looks like.
Yael opened her mouth to answer and realised, with a start, that she did not remember. She did not remember. She did not remember. What kind of person forgets her own face?
Honestly, this just about made my heart bleed. Yael is a very conflicted person, and this Graudin presents this perfectly. I especially loved the idea of the wolves (although that broke my heart too), and how they've shaped her as a person.
2. Genre mash up
I mean, really. Motorcycle racing + road tripping + alternative history + World War II. If that doesn't tempt you, then I dont know what will. Normally, you wouldn't think these themes could even fit together plausibly. I know that the first couple of times I saw the book on Goodreads, I just went, "Huh? Motorcycling?" But the third time I stumbled upon it, it somehow sounded like something I just
had
to read.
And it
is
. Something that you just
have
to read, that is.
3. Both plot driven and character driven
Its a rare book that gives equal weight to the development of both the character and the plot.
Wolf by Wolf
aces both the departments. I am a big sucker for a great character driven plot, and I loved the vulnerable moments that gave delved into Yael's past and present demons.
I think the fact that this is such a mix of genre in itself hints at the book's rapid pace.
Wolf by Wolf
's amazing plot is the definite high point of the story. While it is true that the similar race procedures in each country could get a little repetitive for some readers, I personally did not find it so, because the relationship dynamics between the different characters, as well as the tasks that Yael had to perform, kept my interest. There was a tiny diversion from the main plot that feels unnecessary and slows down the plot some, though.
4. Sibling Love and interesting secondary characters
I am a big advocate for positive familial relationships in stories, and I loved how this was portrayed in
Wolf by Wolf
. While we don't learn a whole lot about Felix and Adele's history for obvious reasons, from what we do see of their relationship, he seems like such a great brother! I wonder what's going to happen when he figures out what Yael is up to. The other secondary characters - Luka and Henryka, among others, are equally compelling, and I would love to read more about them in the following book.

5. Larger Issues
The book has many important underlying themes that make you think hard. Like I mentioned earlier, Yael is a conflicted character, and she struggles a lot with her own identity.
The answer to this question was something Yael had to fight for, Her self-reflection was no reflection at all. It was a shattered mirror. Something she had to piece together, over and over again. Memory by memory. Wolf by wolf.
This issue revisited several times in the story, and it brought to mind my own struggles with the same, and also about how important an identity is in itself, and how much it defines a person.
Wolf by Wolf
also explores the issue of differences and diversity, and I think that's of special relevance to today's world. While on one side we are striving for free expression of diversity and uniqueness, I feel like on the other side we are moving towards a place of intolerance and stereotyping that can be very dangerous. Reading
Wolf by Wolf
is a very grounding experience in that it gives us a truly scary look into what could have been, and reminds us of the lessons we are yet to learn. For, as Graudin says in the Author's Note:
The world within these pages could have been our own. For a time and in a place it was, and we should do our best not to forget that.
And one last note on Graudin's writing - it's pretty damn fantastic and I loved
loved
LOVED it so much! There's a sort of harmony to her words that just sucks you right into the scene and makes you
feel
it. It was brilliant!
Bottomline:
Basically, this genre bending, feminist, bomb of a book broke my heart and DIDN'T PUT IT BACK TOGETHER AGAIN. Go read this book, you guys. For real.
FROM AROUND THE BLOGOSPHERE
Great Imaginations:
It's sad, devastating, but also full of suspense, revenge, and excitement.
All About Books:
My favorite part of Wolf by Wolf was definitely the skin shifting... It is anything but easy for her and she is often close to being discovered and I loved how realistically Ryan Graudin wrote it.
MuggleNet:
I was swept away by the subtle intricacies that hook each relationship together.
Holding Quote:
There is iron in our blood, and it binds us together. We are Wolfes. We are stronger than this.

The ghosts will stay. Just like your numbers. Just like my stars. Just like our pain. But you don't have to be afraid of them. Remember and be rendered. (You must be broken to be fixed.) Remember and be rendered.

For a time and a place, this was our world.