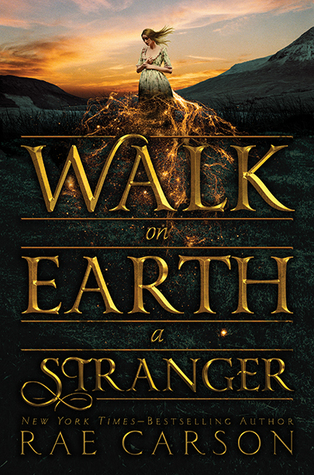 Title: 
Walk on Earth A Stranger (Gold Seer Trilogy #1)
Author: 
Rae Carson
Publication date: 
September 22, 2015
Publisher:
 Greenwillow Books (HarperCollins)
Genre: 
YA, Fantasy, Historical Fiction
Rating: 
Gold is in my blood, in my breath, even in the flecks in my eyes.

Lee Westfall has a strong, loving family. She has a home she loves and a loyal steed. She has a best friend—who might want to be something more.

She also has a secret.

Leee can sense gold in the world around her. Veins deep in the earth. Small nuggets in a stream. Even gold dust caught underneath a fingernail. She has kept her family safe and able to buy provisions, even through the harshest winters. But what would someone do to control a girl with that kind of power? A person might muder for it.

When everything Lee holds dear is ripped away, she flees west to California—where gold has just been discovered. Perhaps this will be the one place a magical girl can be herself. If she survives the journey.

The acclaimed Rae Carson begins a sweeping new trilogy set in Gold Rush-era America, about a young woman with a powerful and dangerous gift.

After completely loving Fire and Thorns trilogy by Rae Carson, I knew I would read anything else she wrote. And so when I got the chance to review Walk on Earth A Stranger, I grabbed it. And I am so glad I did.

In a few words, Walk on Earth A Stranger is the story of Leah Westfall who has the power to glean gold, wherever it might be. In an effort to escape from her uncle who murders her parents to get to her, Leah travels across the country to California at the start of the gold rush. Her rationale is that she would be able to conceal her power in a place where it wouldn't be a miracle to find gold.