Rather than do a monthly or weekly recap, which would never work for me because I never have anything to say (I highly doubt I have the dedication to maintain something like that either), I figured it would be interesting to look back every few months and see what's been going on in my life, which is why Rewind is now here.
IN REAL LIFE
So far, 2015 has been a weird mix of utter mad rushes and complete inertia. The first few weeks of January, life was normal and my weekly class tests were all I had to worry about. But then, right from the third week onward my life became a crazy roller coaster of organising events, going for internships, completing my final year projects and studying for exams. And then I had my final exams. So now I'm a Psychology graduate *cue applause*
I spent exactly one week after my exams feeling utterly decadent with all the free time in my hands, and no commitments or deadlines. It was bliss. I binged on books and TV and movies SO MUCH and it was so awesome.
But after the every binge comes a slump, and mine hit hard. Right now, I'm a point where I don't know what I'm going to do with my life or with my career and its very stressful. I'm someone who always always has a plan, and the sudden lack of any plan is scary. Education wise, I know I'm going to grad school, but other than that, I seem to have drawn a blank. What next? After masters? That's the question that's haunting me right now.
Meanwhile, I've been bitten by the designing bug, so this whole look that you're seeing right now is going to change soon. Some major changes are coming this way, people. I cant wait!
Oh, and I became an aunt to the most beautiful little princess two months ago, which is definitely the highlight of the year.
BETWEEN THE PAGES
My reading year has been shit.
It's been close to a complete failure, and we're already almost halfway through the year! I am so completely mad at... at... okay, I need to be mad at something, so I'm picking the universe.
Goodreads Reading Challenge:
As of now, I've completed 48 books this year.
Usually, this might appear above average. But the thing is, THIS IS NOT NORMAL FOR ME. This time last year, I'd already completed my challenge of 100 books, and had upped the limit. Not having come even halfway just shows how bad my year has been reading wise.
But, on a brighter note, I bought A LOT of books this year, so yay! I haven't read any of them yet, but I've heard wonderful things about them, so I'm hoping they perk up my year, reading wise.
CW: The Rosie Project has been my only 5 star read of 2015 | And so the legacy continues | I finally bought a Patrick Ness book | P.S. I'll always love Scorpio Races
ON THE SCREEN
2015 HAS BEEN AN AMAZING YEAR WITH TV SHOWS AND MOVIES!!!
I binge watched
so much
this year. Honestly, I watched so many things that I don't remember half of them, so there are only a few mentioned here.
On the Silver Screen:
Guardians of The Galaxy
was very pleasant in a back-to-the-future kind of way. It brought back memories of me and my sister going to the children's theater to watch free kid-friendly movies like Finding Nemo and Lion King. Ah, the good old days.
Gravity
completely blew me away. I was alternating between nail biting anxiety and shouting encouragements at the screen. I was exhausted at the end of it LOL
If I Stay
was actually pretty good, and I felt like it remained true to the book. There were a couple things that I had some issues with, though, so I'm planning to reread the book this summer, to see how the book portrays them (I know this sounds super vague, but I don't want to say anything without cross checking).
I also watched a couple of Indian films, but mostly because I knew they would require no mental effort on my side. I simply wanted to switch off my brain for a bit, and they fit the bill.
On the Small Screen:
I began watching
The 100
in December last year, and predictably, am now obsessed with it.
The Originals
is being the coolest show on television as usual and I cant wait for today's episode, which I have no doubt is going to slay me.
I recently started binge watching
White Collar
and I LOVE IT SO SO MUCH. I've had a long standing love affair with crime shows ever since I was really small. White Collar has just served to intensify my fascination with it, so much so that when my mum was telling me about this recent theft where the thieves made away with 1kg of solid gold, my reaction was "Wow! That's so cool!". Okay, this just makes me sound creepy and potentially dangerous, which just so you know, I'm not. Promise.
After all the hue and cry over BBC's documentary
India's Daughter
, I decided that I needed to watch it for myself, and all I have to say is this... It is an incredibly disturbing documentary (I couldn't sleep that night), both in terms of the horrifying details of the rape, as well as the backward medieval ideologies expressed by the defense lawyers. While such ideas are not representative of the views of most parts of modern India, it is true that there is still a long way for us to go in terms of women empowerment, and breaking free of the patriarchal system.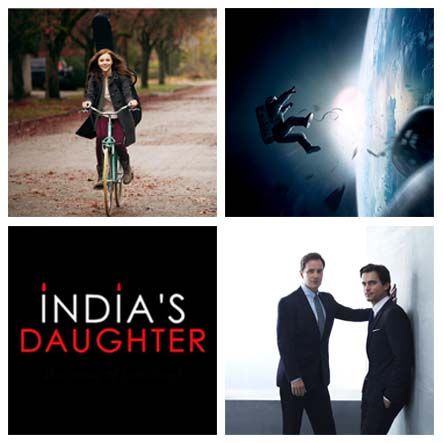 CW: Chloë Moretz did a great job in If I Stay | Gravity was scary and euphoric | ♥♥♥♥♥ | I think everyone should watch India's Daughter
So, how has your year been so far?