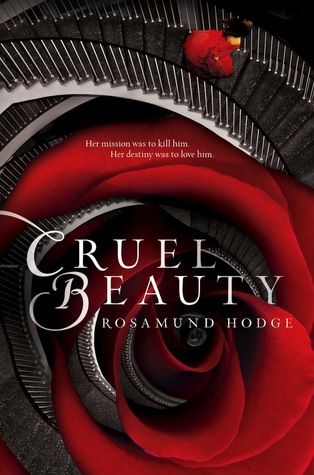 Title:
Cruel Beauty
Author: Rosamund Hodge
Publication date:
January 28, 2014
Publisher:
Balzer & Bray (HarperCollins)
Genre:
YA, Fantasy
Rating:
Source:
Publisher (Edelweiss)
Amazon
|
Goodreads | TBD
Graceling meets Beauty and the Beast in this sweeping fantasy about one girl's journey to fulfill her destiny and the monster who gets in her way-by stealing her heart.

Based on the classic fairy tale Beauty and the Beast, Cruel Beauty is a dazzling love story about our deepest desires and their power to change our destiny.

Since birth, Nyx has been betrothed to the evil ruler of her kingdom-all because of a foolish bargain struck by her father. And since birth, she has been in training to kill him.

With no choice but to fulfill her duty, Nyx resents her family for never trying to save her and hates herself for wanting to escape her fate. Still, on her seventeenth birthday, Nyx abandons everything she's ever known to marry the all-powerful, immortal Ignifex. Her plan? Seduce him, destroy his enchanted castle, and break the nine-hundred-year-old curse he put on her people.

But Ignifex is not at all what Nyx expected. The strangely charming lord beguiles her, and his castle-a shifting maze of magical rooms-enthralls her.

As Nyx searches for a way to free her homeland by uncovering Ignifex's secrets, she finds herself unwillingly drawn to him. Even if she could bring herself to love her sworn enemy, how can she refuse her duty to kill him? With time running out, Nyx must decide what is more important: the future of her kingdom, or the man she was never supposed to love.
Since reading Diana Peterfreud's For Darkness Shows The Stars, I've been slightly apprehensive about retellings. I found For Darkness Shows The Stars having WAY too many things similar to Persuasion, which, in my opinion, detracted from the originality of the story (I did find Across The Star Swept Sea to be much better, though), and I was scared that the same would be true with Cruel Beauty.
Fortunately, I was never more wrong about anything.
While Hodge may have picked the bare bones from Beauty & the Beast, that's about all she's taken from it.
The most important distinction from the original is that both Nyx (Beauty) and Ignifex (Beast) are fundamentally flawed characters. Nyx fights everyday with her bitter feelings towards her father, who was so willing to give her up, her aunt, who attempts to assume her mother's place, her dead mother, for being so weak, and her sister, Astraia, whom she both loves and resents terribly. Yeah, that's a lot of hate to lug around. But you know what? That was something I really loved about this story: how
both our star crossed lovers recognize the darkness that resides within them, acknowledge it, embrace it even, and pursue their desires with the full knowledge that they do not deserve it.
Ignifex was a rather confusing character for me. Save for his actions in the past, I honestly did not not find him 'beastly' at all. In fact, while he may appear a little Voldemort like (slitted pupils make a return), he is not half as vicious as him, as far as his conduct in the book is concerned. But, when weighed against his history, he does come out looking the villain.
And when a villain like Ignifex and a girl like Nyx fall in love... That is the crux of the story.
Do you judge a person by their past actions or their present conduct? Is it
right
to hold such cruelty in a heart?
Do hearts so filled with darkness deserve to taste the sweet nectar of love and a happy ending?
Are they capable of the higher human principles like altruism and self sacrifice, and if they are, is the denial just what they deserve, or have they proved themselves worthy of happiness? I can keep plumbing the depths of this story and keep coming up with more such philosophical ponderings, but I think I've conveyed my point.
However, as you must have gleaned from my 3.5 rating for Cruel Beauty,
there were a few glitches that the book could have done without.
For one, the complexity of the plot has a possible downside to it as well, in that readers may lose track of what is going on at any particular moment (it happened to me and I had to backtrack a couple of times). For another, the plot progression does not occur at a consistent pace, resulting in flurries of happenings in between long periods of virtually nothing. And given that Ignifex appears only infrequently in the first half of the book, we spend a lot of time in Nyx's head, which can become tiring after a while (I admit, I skimmed). Cruel Beauty is also home to a very unusual love triangle. I normally cannot abide love triangles, but admittedly, the one in this tale has plays a vital role, so I can forgive its presence. It also falls into the trap of insta-love, which, fortunately, is offset (only slightly, though) by the almost painfully sweet moments between Ignifex and Nyx, when the learn more of each other and become true friends.
Cruel Beauty does not read like the work of a debutante. The writing has the feel of a fairy tale to it, in perfect sync with the theme of the book.
Hodge's brilliant imagery gives rise to one of the most visually marvelous worlds I've encountered in the fictional realm.
While the central plot is a parallel to Beauty & The Beast, it appears that the author has also incorporated aspects of other fairy tales into the story (only in tiny bits, though), brought in at the prefect moments, so that although the underlying concept is old, she has made it her own.
Readers who are interested in Greek mythology will enjoy Cruel Beauty, for it is steeped in it, and is no doubt a contributing factor to the otherworldly mood the book evokes.
Bottomline:
While Cruel Beauty has it's dull moments, it's nevertheless a tale of self discovery and the extent to which true love can go that leaves you questioning your ideals. A perfect example of a retelling if I've ever seen one!
Ivy Book Bindings:
Wrong. Cruel Beauty is precisely as its title describes it: cruel and beautiful, both at the same time.
Bookistry:
I got a lot of illicit kissing, I got a lot of falling in love. As beautiful as this book was, it felt to me that the MAIN plot of mayhem and murder got tossed aside for a love triangle.
A Reader of Fictions:
This book has the darkness of original fairy tales and the brightness too, the fickleness and unreliability of the Greek pantheon, and the family drama of the Greek classics.
Holding Quote:
I was raised to marry a monster.

They said that love was terrifying and tender, wild and sweet, and none of it made any sense. But now I knew that every word was true. For Ignifex was still himself, still mocking and wild and inhuman, terrible as a legion arrayed for war; but in my arms he became gentle.