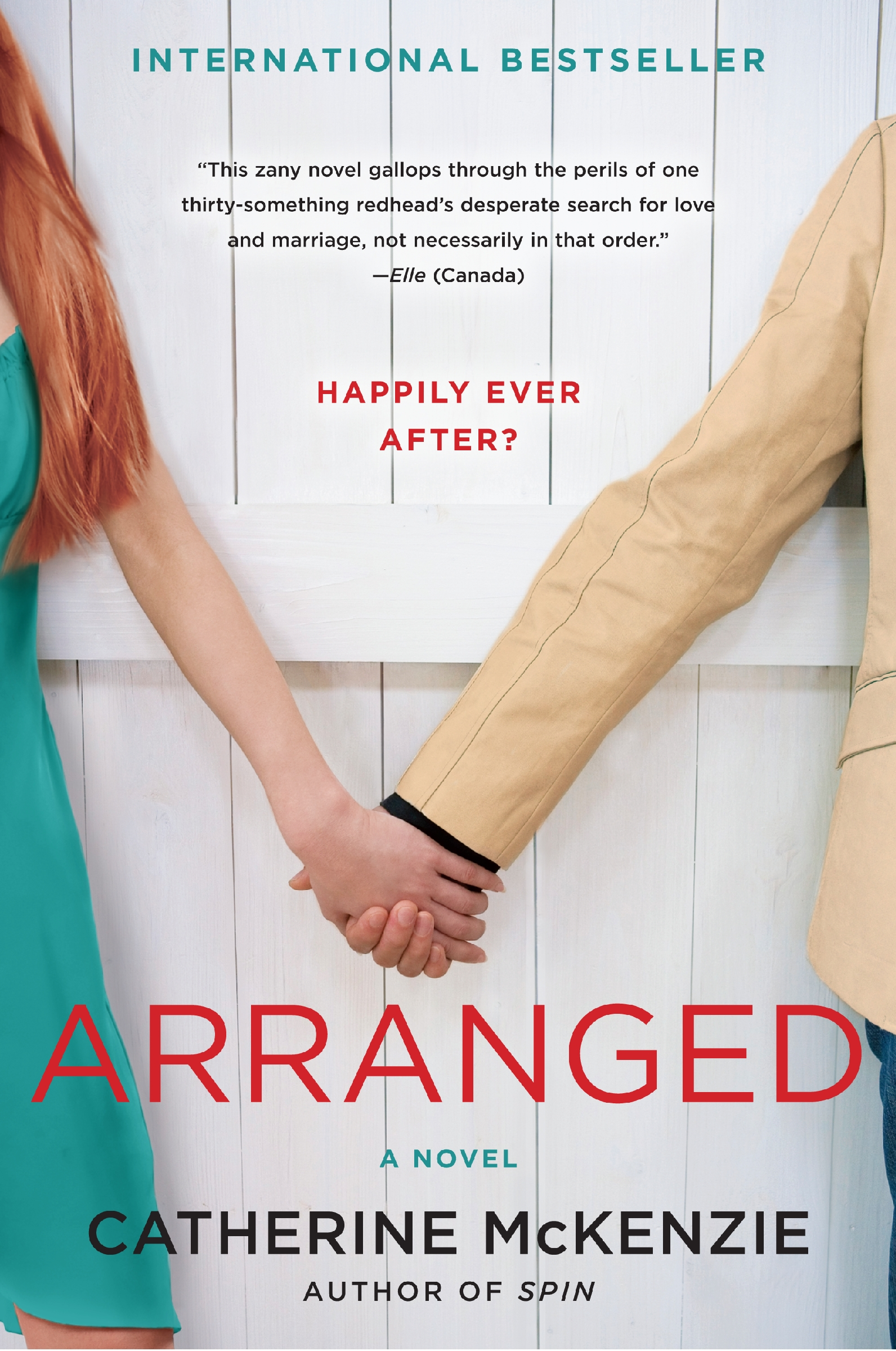 Title:
Arranged
Author:
Catherine McKenzie
Publisher:
Harper Collins
Anne Blythe has a great life: a good job, good friends, and a potential book deal for her first novel. When it comes to finding someone to share it with, however, she just can't seem to get it right.

After yet another relationship ends, Anne comes across a business card for what she thinks is a dating service, and she pockets it just in case. When her best friend, Sarah, announces she's engaged, Anne can't help feeling envious. On an impulse, she decides to give the service a try because maybe she could use a little assistance in finding the right man. But Anne soon discovers the company isn't a dating service; it's an exclusive, and pricey, arranged marriage service. She initially rejects the idea, but the more she thinks about it-and the company's success rate-the more it appeals to her. After all, arranged marriages are the norm for millions of women around the world, so why wouldn't it work for her?

A few months later, Anne is travelling to a Mexican resort, where in one short weekend she will meet and marry Jack. And against all odds, it seems to be working out-until Anne learns that Jack, and the company that arranged their marriage, are not what they seem at all.
I'm really, really curious about where Catherine McKenzie got the inspiration for this book. Judging by the many references to Anne Shirley from L M Montgomery's Green Gables series (the main character is named after her, for God's sake!), it looks like she agrees with Montgomery that you should stick to writing what you know (eg
- First live, then write -
Rose in Bloom, and many more if you've read her books). At some point in the book, I began wondering if maybe the author had gotten inspiration from her own life maybe? Or from someone she knows? I wonder...
I just love what the book is about - arranged marriage. I'm an Indian, and a Muslim, so an arranged marriage is pretty much a given for me. Don't get me wrong, I'm all for it, especially when you consider how many couples 'fall in love' and then end up in divorce/ are stuck in a bad marriage. However, it is but natural for someone to feel skeptical and maybe a little resentful of the entire thing when everywhere you turn, the 'fall in love and live happily ever after' idea is being marketed.
But you know what? Ironically, when it comes down to the actual marriage, I sometimes see that Indian culture doesn't really consider 'love' a requisite for marriage. Perfect example is one of Sridevi's dialogues from English Vinglish -
"I don't have any need for love. If there is any need, it is for a little respect only."
But don't ask me why is it so. I don't know. But I digress. This is a topic for another post, another day (which only God knows if I'll ever get around to writing).
Getting back on track, I just wish it was 'Get married, fall in love and live happily ever after'. Which is why I love movies like Love Comes Softly and Magic of Ordinary Days nad books abour arranged marriages/ marriages of convenience. Which is naturally why, 'Arranged' was just the right book for me.
It a great read. Definitely chick lit. But you know how in most love stories, the girl meets her Prince Charming right at the beginning? This is different. The guy doesn't make an appearance till page 133! The focus is squarely on HER, & I liked that. It was definitely refreshing.
Oh! And this is when I got the idea to write this up. There's this line in the book where Anne says - '... now he's just somebody I knew'. I love the song 'Somebody That I Used to Know' by Gotye. I've always thought how great it would sound if someone wrote it in a book. And it does! For a few seconds after I read that line, I was like, 'Wow!' Am I making too much out of this? It just sounds so liberating, so strong, as if the ties that held you to that person are severed, and there's no leftover remorse lingering. And I got so excited that I knew I just had to write a review.
The story is well developed and paced perfectly - not too fast, not too slow. There's this camaraderie between them both that's just so great! They not only love each other, but they're also best friends. I love the idea of developing a strong friendship before love. Anne is also incapable of writing her articles on the computer. She just has to write it down by hand, on a paper. That happens to be a certain quirk that we share.
I think I'll stop here before I give away everything about the book. But one thing... I'm not a great fan of the front cover. The guy on the front doesn't really look like Jack. Though its only his arm that you can see.