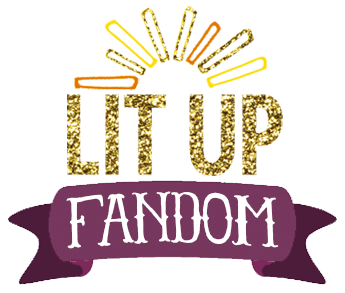 The idea for Lit Up Fandom took root way back in November/December 2013. I remember that there was a lot of talk about starting unique features, how difficult it is to think up of any, and how once you do come up with something no one else has, several copies immediately crop up. It got me thinking. I really, really wanted to come up with something unique like Cee's
You're Just My Type
or Georgie's
Cover Palette
or Amber's
Famous Last Words
, but I simply couldn't think of anything that isn't already out there.
It was around that time that I began putting together the Under The Never Sky Farewell Party, and as I was searching for post ideas, I found so much amazing art by the fans that kind of blew me away. And I was like, wait, how come no one is showcasing this stuff? And thus a seed of an idea was born :D
As much as I wanted to share the art, I was also really interested in talking to the artists themselves because to me, creating fanart for
books
is so much tougher and more complex than doing the same for say, a TV show (not that that isn't tough too. God knows how I struggle to draw a simple face!). Because here, the only prior information you're working with is words, and there's bound to be a difference. I wanted to know how they did it.
But me being me, the idea stayed in my head, where I kept turning it on it's head and trying to figure out how to get this show on the road. Whether to simply showcase the art or do interviews or do both alternatively? And that was how six whole moths went by with me doing nothing. Also (I cant believe I'm saying this out loud. Well, kind of.), I didn't know what the response would be like, and I wasn't all that sure I wanted to find out if it was going to crash & burn. And then came Asti with her awesome ideas and posted
this thing
on coming up with unique features, and how Bookish Games nearly never happened. After reading that piece, I realised that it really wasn't that much of a big deal to start something new, and who knows, people could actually find it fun! (Also, it kind of lit a fire under me because she mentioned fan art, and I didn't want anyone else to grab the idea) Go, Asti! :D
Asti's post couldn't have come at a better time because it was just few weeks later that the Eleanor & Park Special Edition was getting released, with FOUR AWESOME PIECES OF FAN ART! I figured this would be a perfect way to kind of celebrate the release of the book (let's ignore the fact that this is a month late, okay?) and also kick start my new feature at the same time. Pooja @
On Books!
,
Aaliya
(the fandom Yoda) and I came up with the name for the feature after a long brainstorming session which involved some very weird names and fierce competition (dont ask about what). I managed to get hold of three of the four artists whose art is published in the special edition and I asked them a few questions, and HERE WE ARE, PEOPLE!