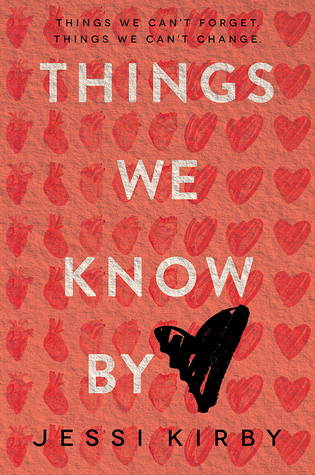 Title:
Things We Know By Heart
Author: 
Jessi Kirby
Publication date: 
April 21, 2015
Publisher:
 HarperTeen
Genre: 
YA, Contemporary
Rating: 
Source: 
Publisher (Edelweiss)
Amazon 
| 
Goodreads 
| 
TBD
After Quinn loses her boyfriend, Trent, in an accident their junior year, she reaches out to the recipients of his donated organs in hopes of picking up the pieces of her now-unrecognizable life. She hears back from some of them, but the person who received Trent's heart has remained silent. The essence of a person, she has always believed, is in the heart. If she finds Trent's, then maybe she can have peace once and for all.

Risking everything in order to finally lay her memories to rest, Quinn goes outside the system to track down nineteen-year-old Colton Thomas—a guy whose life has been forever changed by this priceless gift. But what starts as an accidental run-in quickly develops into more, sparking an undeniable attraction. She doesn't want to give in to it—especially since he has no idea how they're connected—but their time together has made Quinn feel alive again. No matter how hard she's falling for Colton, each beat of his heart reminds her of all she's lost…and all that remains at stake.
Things We Know by Heart is the first book in a long time that I read at a stretch, without losing interest in between. I've either been taking forever to read books, or dropping them to pick up later and starting another book, or simply avoiding books in general lately. So this book has been such a relief! I still love books! In three words, I'd describe this book as 'emotional, introspective, and beautiful'.